A Journey to Normandy: How One Man Follows His Father's Footsteps on D-Day
On June 6, 1944, just over 75 years ago, 156,000 Allied soldiers landed in Normandy for one of the most pivotal events in WWII: D-Day. One of these soldiers was James Nunn, a paratrooper and Commander of Company A in the 82nd Airborne Division, and the father to Road Scholar participant Tom Nunn.
When Road Scholar first heard Tom was enrolling in our program "The Seine: D-Day Beaches to Paris" to reconnect to his father, we knew we had to make sure his dream of learning more about his father's experience was a reality. Though Tom knew some information about where James was on D-Day, he didn't know the details, and didn't have the means to explore these locations on his own. Road Scholar wanted to make sure Tom had the opportunity to trace the history he longed to uncover, a history that connected him to a man he loved.
During the month leading up to Tom's learning adventure, we spoke with him on the phone several times to better understand his father's story. Where exactly did James land? How long was he in Normandy? Which division was he in? And as we listened to his father's history, a new story began to emerge: Tom's. Though Tom deeply cared about his father, living the life of a soldier hardened James, which made showing affection difficult at times, and talking about the war nearly impossible. Tom told us of how he yearned deeply for a loving relationship that was never truly reciprocated.
For Tom, this program was more than visiting the places James landed. It was a chance to connect to his father in a way he never had. It was an opportunity to understand – to peel back the layers of a deeply private man.
So we went to work. We delved deep into James' army history, mapped the points where he landed and looked up the small towns where he stayed. We had countless conversations with our colleagues in France to work out the details and ensure this would be the most meaningful experience possible for Tom. And after hours of research, we were still left with one mystery: the farmhouse.
When Tom's father landed in the flooded fields of Normandy, his parachute didn't open until the very last second, resulting in an injured ankle. Knowing that safety was a top priority, James led his men to higher ground and then hobbled to a nearby French farmhouse to take cover, unsure if anyone would be home. To his surprise, they took him in and tended to the wounded soldier, saving his life. For Tom, finding this farmhouse was the most important part of his adventure, which meant it was paramount for us as well.
Tom had a vague idea of where the farmhouse was but no way to know if it was the correct building, if anyone lived there or, if someone did live there, would it be the same family that helped his father? Unfortunately, we had no way of knowing any of that information either – and the farmhouse became one big question mark. But we decided to take a chance, and the result is way beyond something we ever could have planned for.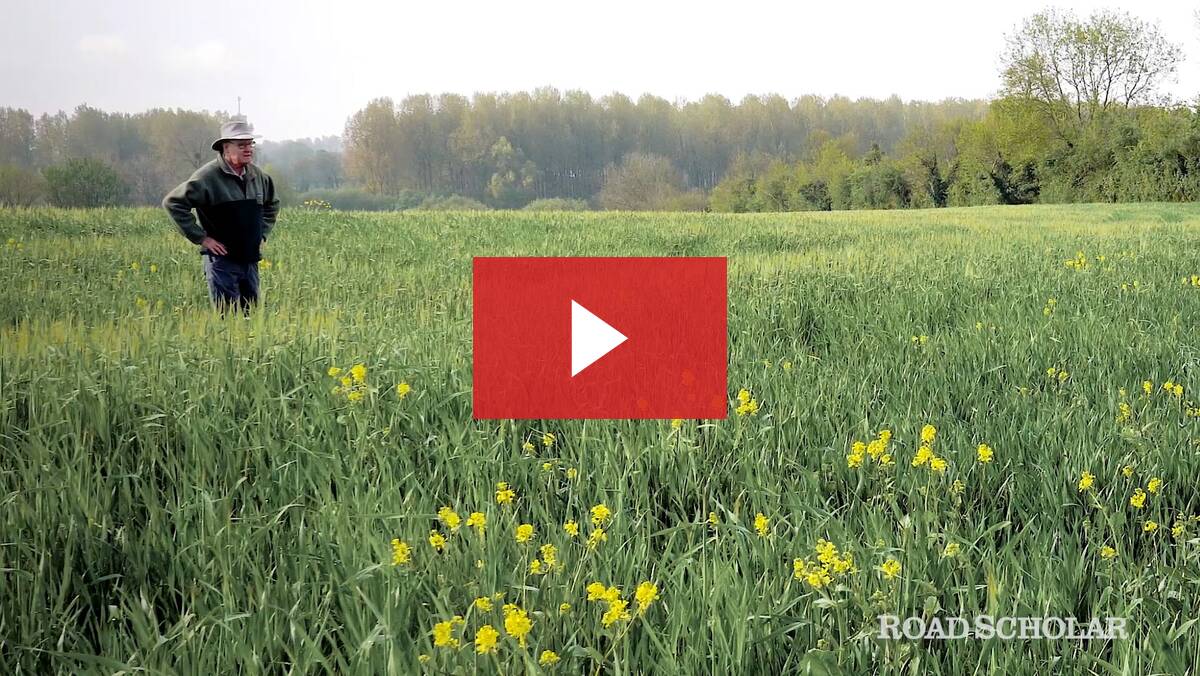 At Road Scholar, taking care of our participants has always been our top priority. So to be able to provide Tom with this once-in-a-lifetime experience was truly an honor. Watch the video to meet Tom, follow along on his journey to Normandy and see what he learns about James, both as a soldier and as a father.
See Road Scholar's complete collection of learning adventures in France →